Summary - to see full reports click here
INCEPTION TO DATE (1)

2019
2020
2021
H1 2022

CHANGE IN FULLY CONVERTED BOOK VALUE PER SHARE (FCBVS) (PREVIOUSLY TERMED RETURN ON EQUITY)

16.8% (2)

14.1%
10.2%
-5.8%
0.0%

NET PREMIUMS WRITTEN

$581.8m (3)
$424.7m
$519.4m
$816.1m
$622.6m

COMBINED RATIO (INCLUDING G&A)

75.1%

80.9%
107.8%
107.3%
78.2%

NET LOSS RATIO

38.1%

30.8%
59.6%
67.6%
37.9%

TOTAL INVESTMENT RETURN

2.4% (4)

4.9%
3.9%
0.1%
-3.8%

TOTAL SHAREHOLDER RETURN

16.5% (5)

34.3%
-1.4%
-25.8%
-30.2%

CAPITAL MANAGEMENT

$2,922.1m (6) of capital returned; 298.6% of IPO capital raised returned

$30.2m of dividends paid; No shares repurchased
$340.3m of capital raised; $32.3m of dividends paid; No shares repurchased
$450.0m long term debt refinancing;
$36.4m of dividends paid; $6.9m shares repurchased
$24.3m dividends paid; $11.7m shares repurchased
(1) Period from 12 December 2005 to 30 June 2022 unless otherwise stated

(2) Compound annual change in FCVBS
(3) Average annual net premiums written from 1 January 2006 to 30 June 2022
(4) Average annual return on investments to 30 June 2022
(5) TSR is calculated as compound annual return using IRR from date of inception
(6) The inception to date percentage is calculated on a paid basis, including the final dividend of $0.05
The negative change in FCBVS is primarily due to our underwriting result which was adversely impacted by net insurance losses of $470.5 million. Additionally the Group incurred higher than normal financing costs due to one-off expenses totalling $18.7 million related to the refinancing of the Group's debt. Investment returns were low at $1.3 million.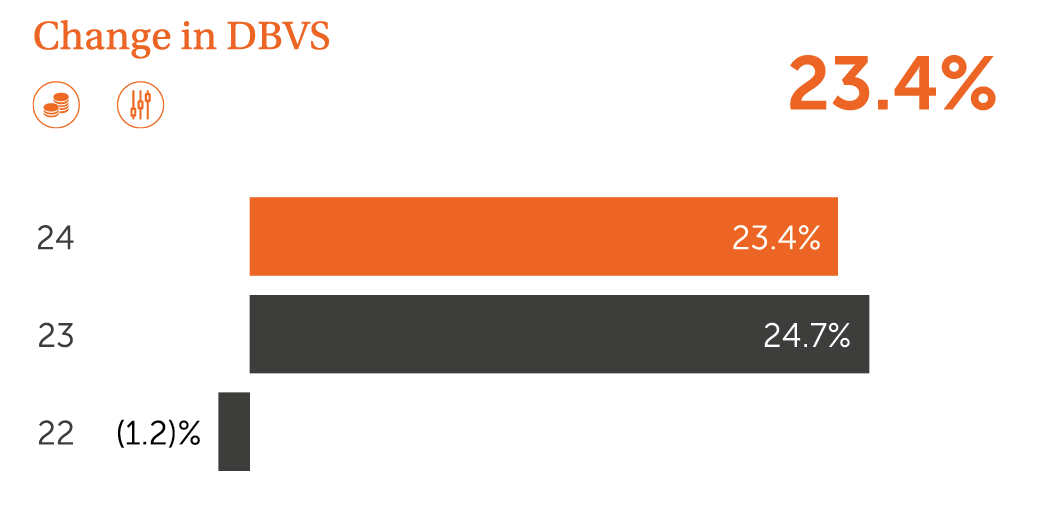 The combined ratio reflects the heightened loss activity during the year, with the industry's natural catastrophe losses alone estimated at around $130 billion, making 2021 one of the largest ever industry loss years on record. The combined ratio of 107.3% demonstrates that the portfolio is more robust than in previous years as net premiums earned grew to $696.5 million from $475.8 million in 2020.
Total Investment Return: 0.1%
In a year of significant volatility, the investment portfolio generated a financial market return of 0.1%. The low returns were driven primarily by the fixed maturity portfolios, given the significant increase in treasury yields, resulting in unrealised investment losses of $31.6 million recognised in other comprehensive loss. These losses were mitigated by the majority of the risk assets which generated strong returns, notably the bank loans, hedge funds and the private investment funds.
Total Shareholder Return: -25.8%
The decline in our share price during 2021 reflected the industry catastrophe loss environment. In addition, sentiment around climate change and the potential for increased frequency of weather events also weighed on our total shareholder return.
Comprehensive Income Returned to Shareholders: $43.3m
The Group has made a comprehensive loss of $92.9 million in 2021. We continued to deploy excess capital into the business to fund growth opportunities and paid ordinary dividends of $36.4 million and repurchased shares of $6.9 million.
Gross premiums written under management: $1.5b
During the course of the year, and in light of a 'hardening' pricing cycle, the Group was able to grow gross premiums written to $1.2 billion. Including the external Name's portion of premiums written in Syndicate 2010 plus the premiums written in LCM on behalf of KRL we were able to grow our gross premiums written under management to $1.5 billion.
Bold text refers to GAAP measures
The dotted lines in the charts refer to the Five-year average